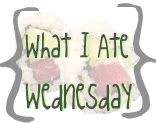 I love Jenn's WIATs and it has nothing to do with the food.
Since I started my blog in January I have found no better group of supportive, kind, and creative women than those who have joined this link party. I have missed you ladies, so here are my eats.
I only have two meals to show, I forgot to do dinner.
BREAKFAST:
For breakfast I had vegan waffles
(I'm still trying on vegan)
with real male syrup and strawberries. This was an amazing breakfast. I love strawberries
(as you will see from the next meal)
and always think of them as decadent.
LUNCH:
For lunch I had rice cakes with peanut butter and strawberries. I ran out of strawberries and added some dried cranberries in the holes. All it all it was good, but I still prefer banana on my peanut butter.
(FYI the dried cranberries were better than the strawberries, these were the dregs of the batch)
.
DINNER:
Thereis no photo, but I had black beans, white rice, and steamed carrots. I was sad my plate had nothing green, but the broccoli had gone bad.
Can you tell we need to go shopping? Jeff and I have gotten bad about our meal plans, shopping and cooking. Maybe now that I am
done with my thesis
I can get back to everything else.
I can't wait to get back to my crafting, designing and general blog world I have neglected in the last weeks of my thesis work.
Love you ladies, so nice to be back.