No, not a real facelift, just a facelift for my blog. In case you didn't notice, I got a new design here. The last one was a free template and kept getting messed up. Instead I paid real money for a professional to make me what I wanted, and it could not have been better.
April over at A Mommy's Blog Design Studio, made me this wonderful new blog design.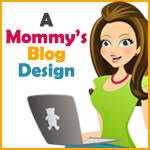 click here if you want to see her website
I actually started this process a while ago, but I kept going back and forth about my design. Basically, it was all my fault, I did not know what I wanted and sent her in a million directions, but April was great she just kept sending me new ideas so I could figure out what would work. I have to say she was super easy to work with and really good about getting back to me right away.
I don't know if you can tell, but I'm not very educated on the whole blog thing, I didn't even know what a social media icon was (I'm still not completely clear on it, but getting better). April walked me though the whole thing, and even made sure all my gadgets were put back. I still have to update my blog list, but other than that I'm good.
I got the design on the last day of a big sale, and boy am I glad I did this. My blog looks so much better now. It is more professional and clean. I asked for clean, modern, and feminine, and that is just what I got. AND you can post comments on the bottom like all the rest of the blogs out there. No more confused comments (you know who you are lol). as an extra bonus I also got a little flower icon on my bookmark. I love that. I had no idea I would get that. This is so fun.
If you are thinking about a new design for your blog be sure to check out April's work. She is great!
Ok enough gushing from me, what do you think? (and if you don't like it ... I don't want to know!!)
I know not everyone likes pink, but I do so that's what I used.