What I ate Wednesday was once again a bust. I only remembered to shoot dinner, but it was a good dinner.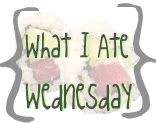 VEGAN POT PIE!
Take not of my blurry background, I'm learning to use my new camera!
We were getting hungry so this shot was rushed.
Jeff and I made this pie just like we used to make our chicken pot pie, but added more veggies, mushrooms, and potatoes (
and took out the chicken, of course)
. It was so good. The puff pastry is an easy way to make this pie without the fuss of a real crust. Yum, I'm sooooo full.
I have to make a confession: I have fallen off the vegan wagon. I had cheese and muscles (yum love those muscles) over the weekend. Jeff is still doing the vegan diet so our dinners will still be vegan but I can't wait to have me some eggs!! A quiche in is my near future, I just know it.