Today is the last day for the HUGE Sale over at a Mommy's Blog Design Studio.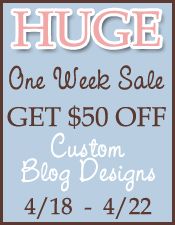 The designs are great. She makes nice clean blog designs. If you like the idea of having a little cartoon licture of yourself you can also have that.
Here are some of my favorite designs made by this Mommy:
Even if you don't catch this sale, the designs are so nice and her prices are not bad considering she has the nicest deign have seen around.
I have decided to splurge and get a new design my self. I'm so excited for an upgrade!