Alright for the weekly WIAW I am showcasing my new eating restrictions.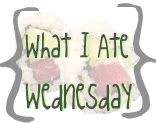 Yup, Jeff and I are vegan
(it has been three and a half weeks)
. Just so you know, I don't only make vegan deserts, although that is all I have posted about.
So here is one day of my newly vegan life.
Breakfast:
(but no seeds, I hate that. I guess I have to go back to my old jam)
.
Lunch:
(it was actually quite good)
of portobello mushrooms, olives and basil. The second part was leftover teriyaki tofu with mashed cauliflower. Both were cold right out of the fridge. I like it like that
(and we gave up our microwave...long story)
.
Dinner
(now vegan mayonnaise)
. The burger is our usual but we had to replace the egg with flax
(a trick we found online)
.
Desert
(what you didn't think I would skip that did you?)
So there you have it. One day of meals in my new vegan life. As you can tell I am still eating well.
I'm hosting a GIVEAWAY this week, so be sure to go
here
to enter to win $15 gift certificate for all natural soap.