Every week I am very good .. at the beginning of the week or day. By the end of the day I forget. For that reason I have a million pictures of breakfast, fewer lunch shots and very seldom do I get dinner shots.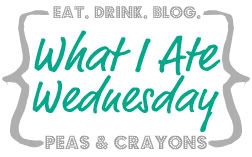 In place of a traditional WIAW I just going to show you the stuff I managed to get photos of over the last two weeks.
Breakfast:
I DO NOT wake up without my cut of tea.
I drink this every day.
Quinoa with coconut, soy milk and peanut-butter.
Egg on a roll (a good breakfast to go)
Lunch:
Shot of espresso.
Eggplant sandwich.
Tomato with goat cheese and rosemary.
Indian leftovers.
Dinner:
What was once black beans, rice and steamed veggies.
See what I mean about not many shots of dinner?
That's what I ate at some moments in the past two weeks.
It is actually pretty good food I must say.
Let me know if you want a recipe.